Senior HR Forum is pleased to support as a media partner for Recruitment Asia organized by Human Resources Magazine. For more details, you may directly refer to the Human Resources Recruitment Asia 2016.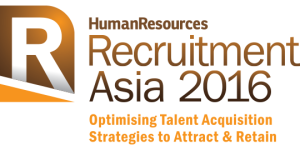 Now in its 3rd year, Recruitment Asia is an annual recruitment strategy focused event gathering senior HR leaders from across industries in Asia. This is your one-stop shop to stock up on talent acquisition strategies and benchmark against your own practices.
Previous Speakers Include:
– Andrea Loke, Grad Recruitment, BNP Paribas
– Dave Ansell, Head of Talent, Ericsson
– Annastasia Raj , Head of Talent, Hong Leong Bank
– Michael Khoo, Regional HR Director, IRC
– Alexander Trost, Vice President HR , Infineon
– Ungku Harun, VP Human Capital, Johor Corporation
– Zubair Raffiq, Head of Talent, L'Oreal Malaysia
– Eli Wong, Head of Cluster HR , Maersk Malaysia
– Nora Abd Manaf , Group Capital HR , Maybank Group
– Ezekiel Vicente, CIO, Mindvalley
– Irene Leng, HR director. NKF
– Azlin Yusof, Head Talent Sourcing, PETRONAS
– NC Prakash, Regional Director HR, Rohde & Schwarz
– Anuradha Katyal, HR Director, Scania SEA
– Rachael Pogson, Global VP HR, Seagate
– Daniel Zhang, Recruitment Lead, Shell
– Su Ta, Head of HR, Sri Kota Medical
– Brandon Lew, Head of HR Ops, T-Systems
– John Nolan, SVP HR, Unilever
– Adam Abdullah, HR Director, Weir Minerals
To view the latest 2016 agenda and confirmed speakers, click here .
Contact The Human Resources Magazine at +65 6423 0329
As Senior HR Forum is one of the media partners for the event, Senior HR Forum Subscribers get to enjoy 10% off delegate pass's prices by booking your delegate ticket today!