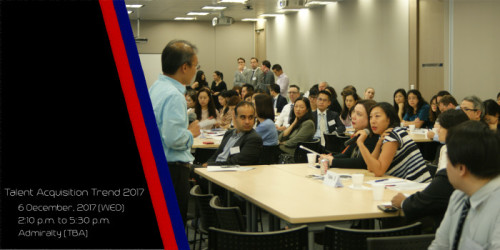 Starting in 2012, this annual event has been engaging talent acquisition practitioners together to learn about the latest trend as well as exchange views about their latest best practices.
This event will cover key areas in Talent Acquisition including e-recruitment, HR big data, AI for HR, candidate experience, HR technology for talent sourcing, employer branding, as well as privacy requirements and best practices in global background screening.
This event will take the approach to not only learn from the keynote speakers but also facilitate discussions among practitioners to share best practices from the floor.
---
Venue: Admiralty/Central Area (TBA) in Hong Kong
Date: December 6th, 2017
Time: 2:10pm to 5:30pm
Targeted Audience:
Talent Acquisition or HR Director/Manager
Participant #:
150
Organizer:
Business Exchange Club – Event Organizer
Senior HR Forum – Media Supporting Organizer
Supporting Organizations:
Lumesse, eeVoices
Price:
Complimentary Invitation Only for in-house Talent Acquisition and HR Practitioners
Registration:
Please send an email to leolaw@SeniorHRForum.com with your full name, position title, company name, email address and direct phone number. Senior HR Forum will pass on your registration request to the event organiser, Business Exchange Club. They will get back to you for seat confirmation only if the registration is accepted.
*Please do note that Business Exchange Club may reserve or reject any registration based on the seat availability and other reasons. You will receive a confirmation email from them within 72 hours upon successful seat reservation.
---
Session I: E-Recruitment Trend and Candidate Experience
– Latest Recruitment Trend
– Applicant Tracking System Best Practice
– Candidate Experience
Presented by: Lumesse
---
Session II: Talent Technology Trend – Topic Discussion
Participants will be divided into groups to discuss one of the following TA hot topics. The concluded findings will then be shared to all for in-depth discussion:
Group I: AI and big data application for talent acquisition – Current and future application
Group II: Impact to the workforce with AI
Group III: Social media hiring – application and trend
Group IV: E-Recruitment technology best practice
---
Session III: Pre-Employment Background Check
– Latest Background Check Trend
– Global and Local Compliance and Privacy Ordinates Requirements
– Country specific screening know-how and specifications
Presented by: eeVoices
---
Session IV: Recruitment Trend – Topic Discussion
Participants will be divided into groups to discuss one of the following TA hot topics. The concluded findings will then be shared to all for in-depth discussion:
Group I: Employer branding best practice
Group II: Effectiveness of traditional and new hiring methods (e.g., executive search, job board and social media)
Group III: Recruitment platform in different countries
Group IV: Onboarding best practice